Hi everyone, Valentina here.
Z-Girl signed up for
BlogPaws Conference, 2014
. She mentioned something like, "Vegas Baby" when she hit send on the entry form. Whatever that means.
Now she is connected to all kinds of cool pet bloggers, and has a lot more information about events and educational information. She's really into that kinda thing. You know, socializing and learning.
She found out that there was a going to be a giveaway--yes, free food sample giveaway--in Hoboken today. That's two train stops from Jersey City. So, she got herself ready and strolled down to Hoboken Pet on 5th and Washington.
There she was greeted by Jordan, from
Royal Canin
. She asked him a few question. Mostly, she talked about *me*, which is why I get to write about the chat.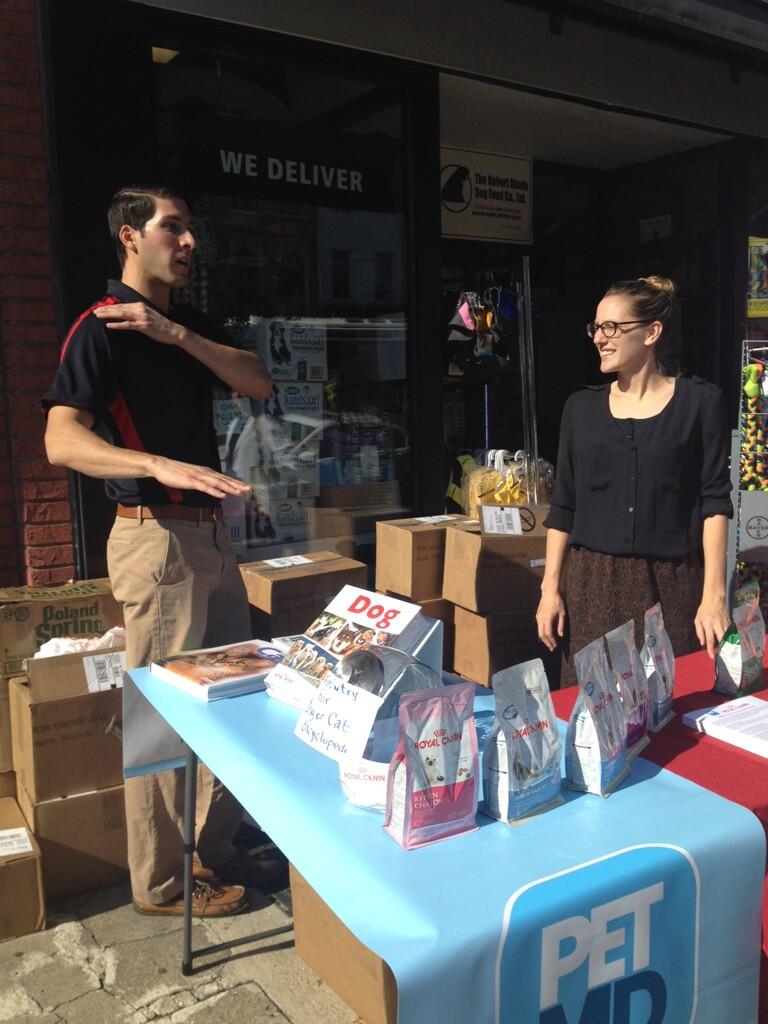 Jordan, talking ingredients...
Z-Girl:
Jordan, I'm curious how the people at RC know what to put in their cat and dog food formulas for different breeds, and why that's important?
Jordan:
We at Royal Canin are "stubbornly scientific" about pet nutrition. We have veterinarians and researchers who track the typical health issues that certain breeds are more likely to have (e.g., hip dysplasia or cardiac problems in older dogs) and formulate the food to have ingredients that are known to help ease those conditions, and in some cases avoid them. (read more about our science based nutrition
here
).
Z-Girl:
Wow, so you don't just make food that you think dogs and cats will find tasty, you think about their health--like we pet owners do!
Jordan:
Yes, we do! We even think about the size and density of the kibble. This is important especially for breeds that typically eat too fast, or have smaller jaws (for example).
Z-Girl:
I have 5 cats, Jordan. Can you believe it?
Jordan:
Wow! That's great! Do any of them eat Royal Canin?
Z-Girl:
Not yet. I want to know if I should try to safely transition them from their current diet to a Royal Canin diet. Specifically, I have one kitty
[that's me!!!! she's going to say me....]
Valentina, who is over grooming herself. I suspect she may have allergies. What do you think about that, and can RC offer a variety that is hypo-allergenic?
Jordan:
Let's get Natasha to weigh in here...
Natasha Feduick is from Garden City Animal Hospital, Long Island, NY
Natasha:
Well, allergies are quite common and also quite difficult, especially in a multi-cat household. Difficult because everyone has to go along with the plan.
(Longer conversation. They lost me when they were referring to "cats" and not "Valentina")
. What I recommend is that you take the RC Special variety as your sample, and offer it to Valentina. She may be telling you with her recent food choices what she is allergic to. If you find that she is still over grooming, you may want to switch her to a
novel protein diet.
Z-Girl:
Okay, Jordan and Natasha, I got a lot of great information today. I am very excited to take home the samples to the Squeedunk Cats and try it out!
Jordan:
Remember what I told you about transitioning them with a mixture of old and new food, so you don't cause stomach upset. Also keep in mind Valentina's allergies may not be entirely food based, but certainly a good diet, with a formulation that cares for how a cat processes the proteins and carbs, are going to help. Let me know if I can answer more questions for you, Laura!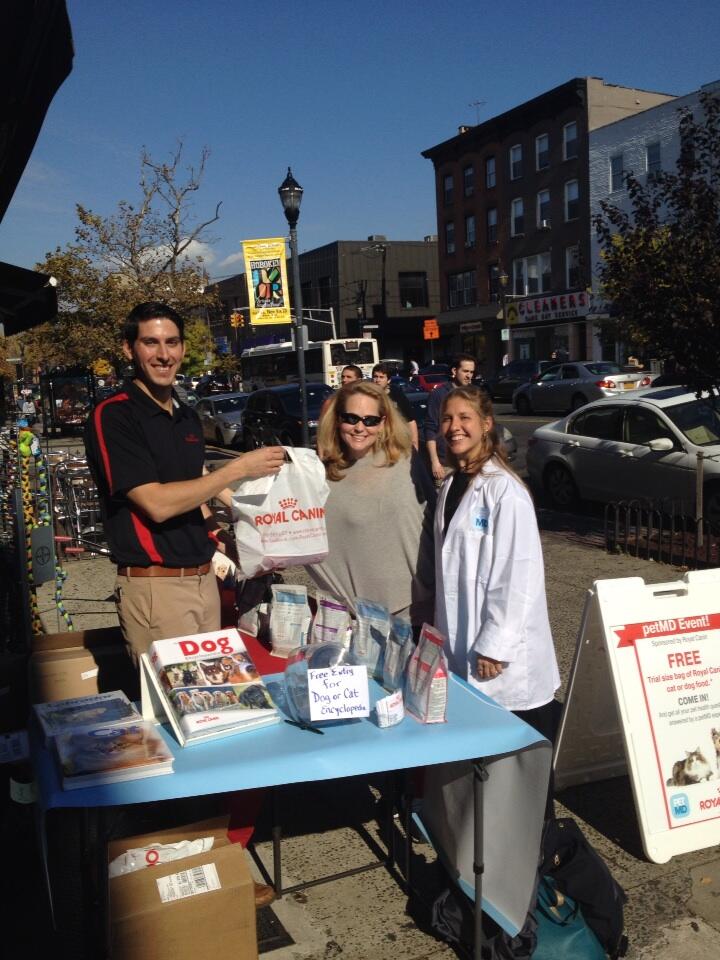 Z-Girl gets the Royal Canin Goodie Bag!
(Please note: The interview is not told in exact quotes, but instead my cat interpretation of what was said--which really was just too much talk about things other than me, or me playing with one of my bird/wand toys...Natasha explained a lot about allergies, and Z-Girl recommends talking to your vet if you have questions. I know she will be talking to Dr. Holly more about me...sigh...)
So here's what I have to say about Royal Canin, so far:
1) The name is Royal Canin. Royal. Come on, you gotta love a pet food that has the name Royal in it, right?
2) It smells good.
3) The kibble is a nice size and it makes a good *crunch* noise when I eat it.
4) Royal Canin has nice people like Jordan working to educate pet guardians like Z-Girl on a beautiful Saturday, when he probably should have been out running or playing basketball. Or whatever he likes to do on a sunny day.
5) Great retailers like Hoboken Pet sponsor the good people of Royal Canin to educate the public.
I know. If I were David Letterman, it would be the Top Ten Reasons and I'd have counted backwards. I don't have a staff of writers like he does. I do this all on my own, people.
Coco checked out the bag right away. She thought the conversation was about her weight (oh, there may have been some talk of that, but we won't discuss it today...)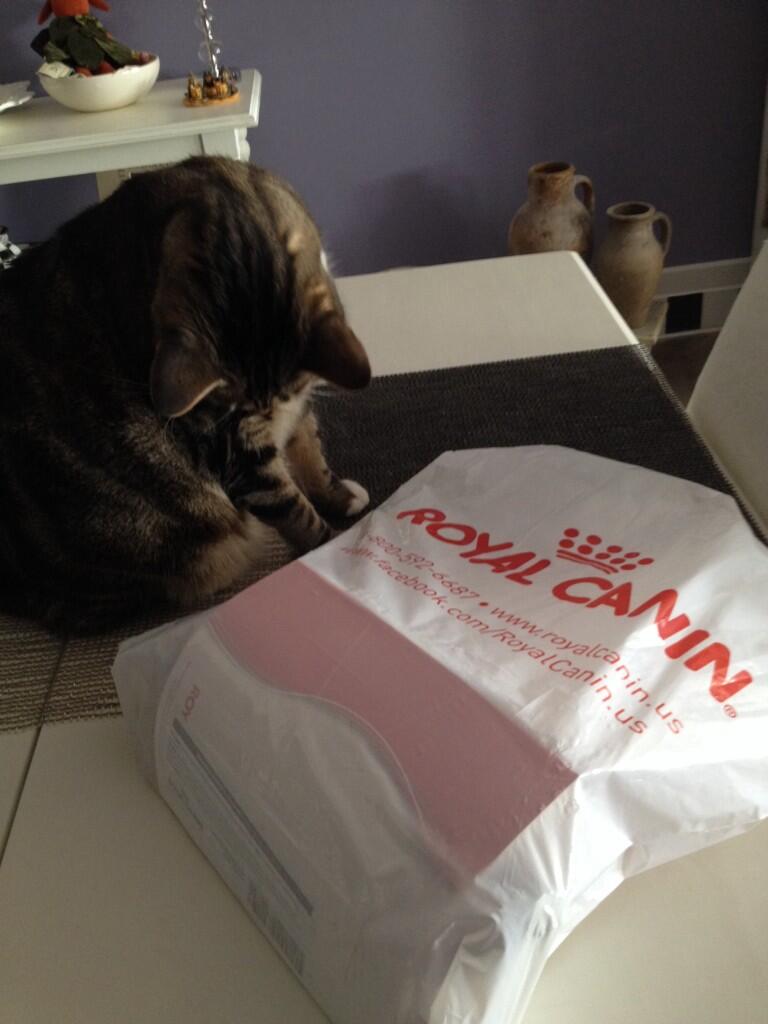 Coco checks out the goodie bag...(uh, yea, we aren't supposed to be on the dining room table but....)
Well folks, that's it for now...
This is Valentina, over and OUT!